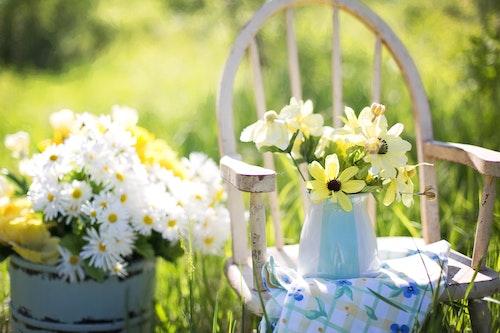 Backyards, large or small, can provide relaxation and escape. Outdoor spaces can be a continuation of the warmth and coziness found inside the home. Here are a few great ideas to incorporate into your outdoor living space:
Make your own private oasis
Use your yard to escape from the outdoor mundane. First, set up a fence of latticework for privacy, so you can relax in comfort and without the stress of wondering who may be peeking into your yard.
Latticework can be made from wood, plastic, metal or bamboo. Many types of latticework are affordable and, when trailing vines are planted along them, will create a serene otherworldly vibe.
Trees, bushes and other foliage can also be used to provide privacy for your yard. A combination of trail vines along latticework, trees and colorful flowers will make your lush oasis bloom.
Create a second living room
Adding a gazebo or large outdoor shelter can feel like an extension of your home. This "outdoor living room" can also be fitted with equipment to keep you cool or warm, depending on the season.
Add lounge chairs with outdoor cushions to make the space comfy. Add a fire pit outside the shelter for ambiance or act as a source of entertainment and a great place to make s'mores.
Four-season spaces
You can create an outdoor room by converting your patio into a four-season space. Large windows will keep the outdoorsy feel while still allowing you to enjoy the comforts of indoors. This extra room will extend the house space enough to install a portable electric heater in winter months if need be.
Your yard is a great place to get fresh air and relax after a long day. With the proper landscaping and decorating, you can transform your outdoor space into a beautiful oasis.